I'm so excited to be able to introduce you to ANYA AND THE SHY GUY. It's been a looong wait (for me, anyway) so this'll be me today!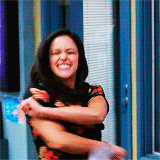 I've been so thrilled to see the successes of the other three books inthe series, and I feel dead lucky that I was allowed to be apart of this Backstage Pass awesomness. To the avid readers of the series – I hope you love Anya as much as you have the others, and if you're new to the series, and you liked Anya, you're going ti LOVE the other books in the series – so get on that one-click button!
There is a giveaway on the series Facebook page, and a bunch of lovely bloggers are doing other giveaways for some super-cool swag this week. So go find those rafflecopters and try get yourself some ANYA AND THE SHY BOY swag!
Amazon US | Amazon Canada | Amazon UK | Amazon Australia | iTunes | Kobo | Google Play.
It's always the quiet ones…
Anya Anderson doesn't just need a big break, she needs any break. Living on the streets doesn't leave a girl many options, so when she scores a gig reporting on the Seconds to Juliet tour, she jumps at the chance to earn enough money to sleep somewhere safe. And the paycheck will get bigger – and keep her off the streets for good – if she can dig up dirt on Will Fray, the irritatingly hot "shy guy" of the band.
Problem is, Will Fray isn't who everyone thinks he is. In fact, he's not Will at all. Matt, Will's identical twin, is actually the guy onstage, reluctantly covering for his brother while he's in rehab. To make matters worse, Matt's being shadowed by a cute reporter with troubled eyes determined to get the scoop. On him. And he's having trouble finding the willpower to keep his distance…
But if the secret gets out, it won't just be his head on a platter – it'll be the whole band's.
This Entangled Teen Crush book contains steamy make out scenes, graphic language, and a love story so hot your copy may spontaneously burst into flames. You've been warned.